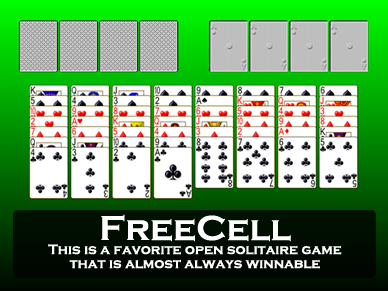 FreeCell
FreeCell is the enormously popular solitaire game included with Windows. Because all cards are visible at the start of the game, it is almost entirely a game of skill. Almost all FreeCell positions can be won. The most notable exception is the game #11982 in Microsoft FreeCell and Pretty Good Solitaire.

Pretty Good Solitaire
Pretty Good Solitaire is the best way to play FreeCell. It contains FreeCell and more than 50 other solitaire games similar to FreeCell, such Sea Towers, Penguin, Eight Off, Double FreeCell, FreeCell Duplex, and many, many more.
For Windows XP/Vista/7/8 or Mac OS X or iPad.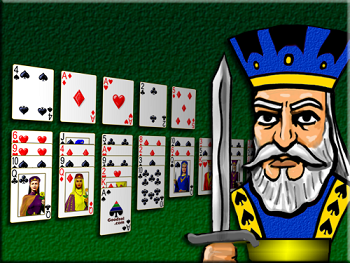 FreeCell Plus
FreeCell Plus is FreeCell the way it ought to be. Like Pretty Good Solitaire, its game numbers are compatible with Windows FreeCell. Undo any move or all your moves or play in Climb Mode from game #1 on up.
For Windows XP/Vista/7/8 or Mac OS X or iPad.
for iPad


Goodsol Free Solitaire
Play FreeCell and 11 other games for free in Goodsol Free Solitaire, a freeware download for Windows. You can play game numbers from 1 to 11982. All except the last one are winnable!
For Windows XP/Vista/7/8/8.1 only.
Play FreeCell Online
Play FreeCell for free online. Requires Java.